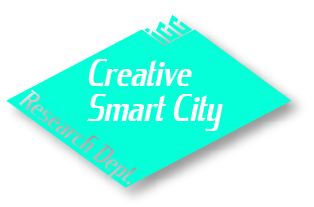 Research Focus:
Department of  Creative Smart City researches over creative culture layer of urban planning and community development. The existing trend of developing cities and communities into hyper functional cultural infrastructure has been proven to be too tech-driven. To develop infrastructure that meets the organic interaction between urban dwellers and their creative cultural needs demands very high level creativity from interaction design, cultural study, communication design, finance optimisation, cultural ecology studies and information technology , functioning together, in an organic way.
On the other hand, the growing creative and cultural industry is calling for less-harmful way of development. In the past 2 decades, the global development of creative zones has only been driven by real estate development and finance planning, establishing very closed cultural circles, which is somehow harmful to the way creatives work. The way creative industry generates social benefits is dramatically restricted, leaving very low creative influence to the city.
We offer research and consultancy to  decision makers from governments, creative industry companies, social groups,  real-estate companies, investment groups and etc.
On-going research research project:
La Camomille Creators' Commune
Location: Guangzhou, China
Website: www.lacamomille.net
Introduction:
This project selected the most well-known production industry centre in China, Guangzhou, where is known by its massive number of designers and factories. Based within a very natural habitat, La Camomille is designed to be the creative hub for local creatives to generate ideas that are meant to change the way they work in China.
It is also a satellite centre which offers international creative seminars, exhibitions, workshops, to its local community and the creative community in GZ.  Designed with a utopian touch, La Camomille, extends from touring events, interactive apps,media publications, websites, web stores to many experimental member services across China, adding a small layer of cross-over brilliance to different city cultures and industries.
Research Centre Location: